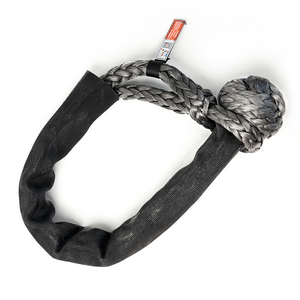 1" SOFT SHACKLE IS ON BACK-ORDER. 
CHECK OUT OUR 7/8" HEAVY DUTY SHACKLE IS A GREAT OPTION WHEN THIS 1" SHACKLE IS OUT OF STOCK. BACK IN STOCK OCTOBER 15th.
Time to take the metal out of your Recovery Gear. Soft Shackles are as strong as steel with real beneficial advantages.
Best paired with 2" and 2.5" kinetic ropes.
Typically, in recovery, there's a metal D-Shackle (aka Clevis, Bow Shackle, thingumajig, tow point or whatever you call it in your local dialect) that you can attach your recovery rope to. Those suckers are heavy and are usually multiple pieces that get dropped in the mud. Who likes muddy metal parts when you're in need of Recovery? 
Yea, not us, so stop fooling' around and switch to a soft, light, single piece tow point made of synthetic fiber with an attractive sleeve in the color of your choice. Finally, you can match your rig! 
SPECS:
1" Diameter - MBS: 201,500 lbs
WLL: FOS 3 = 67,166
          FOS 4 = 50,375
          FOS 5 = 40,300
Our soft shackle is made of strong SK-78 HMPE fiber.

1 year limited warranty.