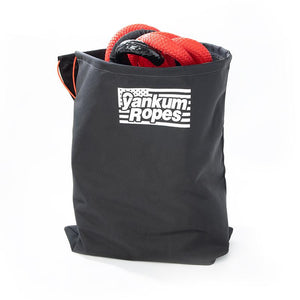 Listen, we aren't messing around with this bag. Our products are known for being dependable and reliable so of course, our bags were designed with the same rugged durability.
2 Drawstring cinch at the top because zippers always break, and 2 handles for easy carry. The bag opens wide on one end to easily slide the rope in-and-out and make it easier to clean.

With years of experience on the trails, we knew what we wanted in a bag and so we made it....how we wanted it......so you can also enjoy with us.
Check these specs out:

Ballistic Nylon - Because Terrorists!

Heavy Duty for all Conditions

Urethane Coated

Water Repellent Fabric

Stronger than Cordura
// Klaviyo ATC Snippet